Don't know where to shop in Orlando? Then read these tips about the best stores, malls, outlets, and products to buy on your trip to the most magical place on earth!
Orlando is known not only for its incredible amusement parks but also for its fantastic shopping opportunities! The city is home to some great malls, outlets, and superstores, and visitors from countries where the currency is not strong, such as South America and Asia, will find that prices in the US are fantastic compared to back home.
However, when most people plan their trip to the place where dreams come true, they tend to focus on the theme parks and don't plan out when and where to shop. This is a big mistake, as Orlando has so many great places to find great deals, and it's impossible to stumble upon them all. You need to know where they are and plan to visit them accordingly.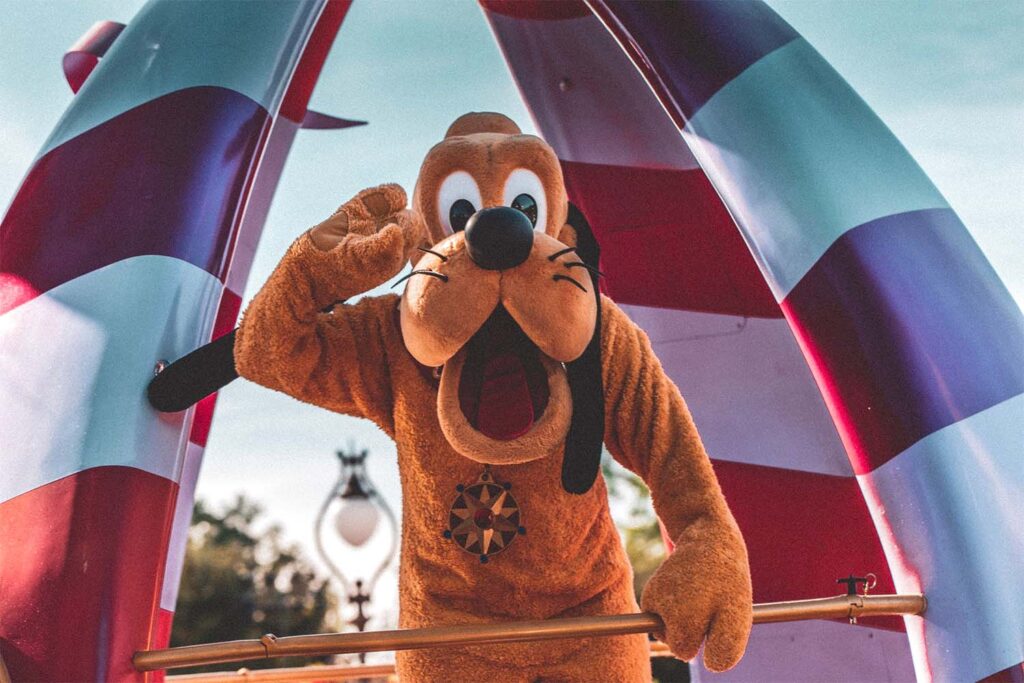 To help you with that, here's everything you need to know about where to shop in Orlando: the best malls, outlets, stores, and tips on what to buy during your time in the US.
But first, let's talk about sales tax.
SALES TAX IN ORLANDO
It might seem odd, but the price you see on products in the US isn't what you'll actually pay for them. You'll still need to add sales tax, which will only be applied at checkout.
Every city in the US has its own sales tax, and Orlando's is 6.5%. That means that whenever you see the price of a product, you should add 6.5% to the price on the tag to get the total cost.
Miami has a 7% sales tax, and in New York City, it's even higher at 8.8%. So, if you're planning to visit these cities on your trip and don't know where the best place to shop is, the answer is Orlando. It's cheaper. The exception is if you're traveling during peak season, like the summer. In that case, buy what you want when you can find it, or you might end up empty-handed.
HOW TO PAY FOR YOUR SHOPPING IN ORLANDO
You can pay your purchases using money, a credit card, or a debit card. If you are coming from abroad, it's probably easier to use some card, so you don't have to carry cash on you during your trip.
You might use your credit card if it has some travel benefits such as points or an international debit card for lower exchange rates. In the latter, you might like to check out Revolut if you are in Europe. If not, Wise is probably your best bet.
WHERE TO STAY TO MAXIMIZE YOUR SHOPPING IN ORLANDO
Let's be honest, although Orlando is a shopping paradise, most people visit the city not just for shopping but also to enjoy the theme parks. Because of this, you should book a hotel that's close to the best malls and stores, but that also gives you easy access to Disney and Universal.
With that in mind, the best places to stay are:
International Drive: this is the most famous avenue in the city, with plenty of hotels, restaurants, and stores, and it's also close to Universal Studios.
Near Walt Disney World: some hotels in Lake Buena Vista are within walking distance of Disney Springs, and they're also close to the Premium Outlet Vineland and some Targets and Walmarts.
It takes roughly the same amount of time to get from either of these areas to any mall, and you can find hotels with similar prices in either location.
What are the best hotels at International Drive and Lake Buena Vista?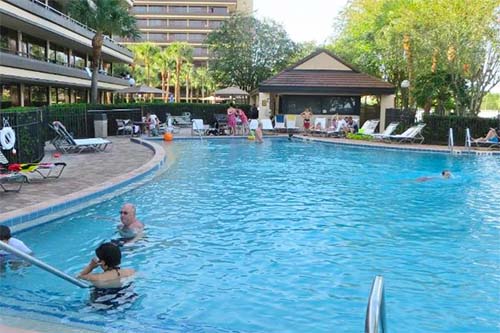 The Rosen Inn at Pointe is the perfect hotel for you if you are only looking for a place to sleep and rest for a bit. Don't get me wrong, you can still enjoy the local pool and coffee shop, but it's not the most exciting hotel ever. What is great about it is the price and its location, since it's in the middle of the International Drive, close to a CVS, several restaurants, and other stores. If you are looking for a more comfortable option nearby, you can also try the Embassy Suites by Hilton.
The Wyndham Garden is an excellent choice for those who want to stay close to Disney. It's walking distance from Disney Springs, and it has two pools, a small water park, restaurants, a wet bar, and free transportation to the Walt Disney parks. For a most luxurious option near Disney, look at the Hilton Orlando Lake Buena Vista Palace.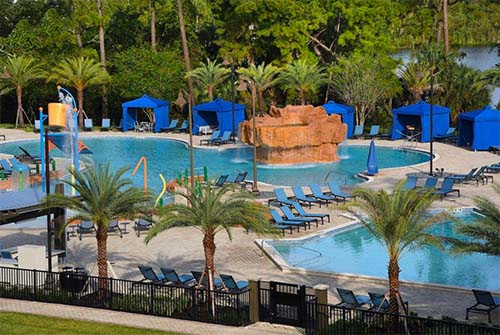 Since prices are mostly the same for both locations, I suggest you stay close to Disney. Why? Because both the Wyndham, the Hilton, and several other hotels are Disney partners. If you stay there, you get early access to Disney parks, so you probably won't have to buy Genie+ or Lightning Lane services to skip the lines. Use the money you save to shop more instead.
WHERE TO SHOP IN ORLANDO
Recommendations are divided into best outlets, malls, and stores since Orlando (and the U.S. in general) has some crazy huge stores that are not inside shopping centers.
The best outlets in Orlando
Outlets are official discount malls where stores sell last-season products for less than their retail price.
I love outlets, and I think they're worth a visit even if you're on a tight budget, because you can find some amazing deals. For example, I've bought Victoria's Secret bras for $10, New Balance white sneakers for $50, and Abercrombie dresses for $15, just to name a few.
Orlando's outlets are enormous, so don't be surprised to see some people carrying around suitcases to help with their shopping bags. If you're planning to do a lot of shopping, I suggest you do the same, since you shouldn't leave your purchases in your car while you continue shopping. Break-ins are common, and you don't want to lose your new items just because you couldn't carry any more bags.
Outlets are usually open-air malls, so they're not the best choice on rainy days. That being said, they'll probably be less crowded on those days.
The best outlets in Orlando are:
Premium Outlet International Drive
Address: 5269 International Dr.
The most popular outlets in the U.S. are from the Premium Outlet brand. When talking about Orlando, the best Premium Outlet (yes, the city has two) is the one located near International Drive. Some of the stores you can find there are:
Adidas
Aeropostale
Armani
Asics
BOSS
Calvin Klein
Coach
Kate Spade
Kipling
Lacoste
Marc Jacobs
Michael Kors
New Balance
Nike
Polo Ralph Lauren
The North Face
Tory Burch
Victoria's Secret
Check this link to see what other stores you can find there. This is the only outlet in Orlando with discounted Victoria's Secret.
This is a big outlet. You can spend the whole day there, and still, you probably won't visit every store. My suggestion is that you take the map (yes, the outlets have printed maps), decide a course of action, and start from there, so you don't have to keep going back and forth.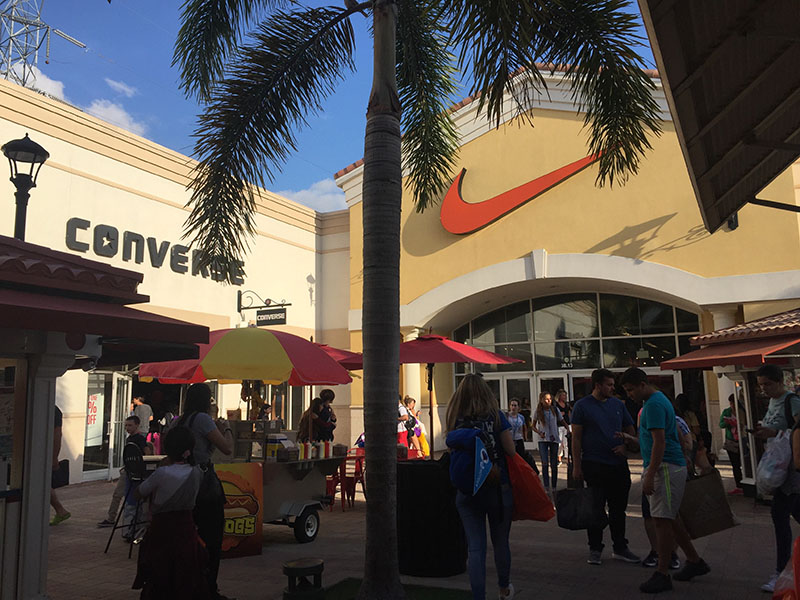 If you have to choose only one outlet to go to while you visit Orlando, this is the one. Close by, there are other interesting stores, such as Yes Brasil (if you are Latin-American, they have all the popular brands you are looking for), BuyBuy Baby, and a TJMaxx and ROSS.
Premium Outlet Vineland
Address: 8200 Vineland Ave
Vineland's Premium Outlet looks a lot like the one in International Drive, but they have an exciting twist: luxury discount stores. Besides the usual Nike, Adidas, Aeropostale, and Calvin Klein that you see in most outlets, here you can also find:
Armani
BOSS
Bottega Veneta
Burberry
Carolina Herrera
DKNY
Gucci
Jimmy Choo
kate spade
Longchamp
Lululemon
MaxMara
Michael Kors
Prada
Salvatore Ferragamo
Superdry
Versace
You can check the complete list here.
Although this outlet is really popular, it's usually calmer than the one on International Drive. So if you want to shop without the crowds, this can be a great option (not in peak season, though).
If you are into luxury buys, it is important to research before going to an outlet. Some brands are notorious for producing outlet-exclusive pieces, and they do not have the same quality that you will get in stores.
Lake Buena Vista Factory Stores
Address: 15657 S Apopka Vineland Rd
Finally, a non-Premium outlet. The Lake Buena Vista Factory Stores is smaller than the former two outlets, but it still has exciting stores (and better restaurants).
There you can find:
American Eagle
Aéropostale
Calvin Klein
Express
Fossil
GAP
Levi's
Nike
Reebok
Tommy Hilfiger
Timberland
Under Armour
Complete list of stores here.
It's an interesting outlet, but it is only worth it if you have already visited a Premium Outlet. It isn't my first (or only) choice when I'm in Orlando.
Visiting Miami?
If you are going to Miami during your trip, I recommend stopping at my favorite outlet: Sawgrass Mills. It's the biggest outlet in the U.S., and it has every type of store, from affordable to luxury.
You will find the usual: Nike, Adidas, etc., but also Victoria's Secret, Initmissimi, Hollister, Pandora, a Super Target, Burlington, TJ Maxx, and even a Primark!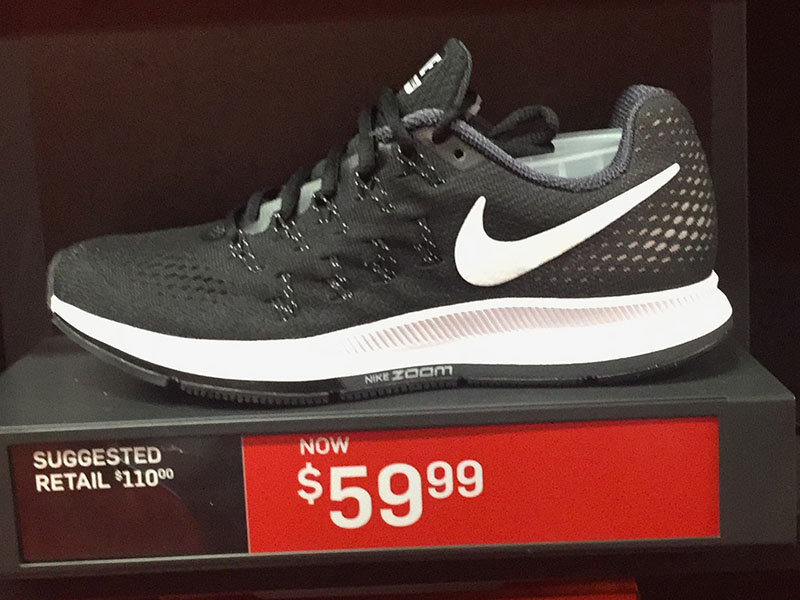 Best shopping malls in Orlando
Orlando only has two significant shopping malls, and I call them the "luxury mall" and the "regular mall".
The Florida Mall
The Florida Mall is one of the biggest malls in Florida, and it's the regular mall in my category. I call it that because it's your usual mall with a great mix of stores, from technology like Apple to make-up like Sephora and clothes like Nike.
Confession time: the first time I ever visited Orlando, I couldn't even walk to the other side of the mall before it was time to leave because this mall is BIG.
Interesting stores:
Adidas
Abercrombie
Aeropostale
Apple
Bath Body Works
Coach
Cotton On
Express
Foot Locker
Forever XXI
Game Stop
Fossil
GAP
Garage
H&M
Guess
Hollister
Hot Topic
Calzedonia
Journeys
Kipling
LUSH
MAC
Macy's
Michael Kors
Morphe
Old Navy
Pac Sun
Victoria's Secret e PINK
Sephora
Skechers
Uniqlo
Zara
Visiting the Florida Mall will also take you the whole day, especially if you are ready to do some serious shopping. Unfortunately, the restaurant options are pretty limited, but you can recharge with a Shake Shack, Five Guys, Popeye's, or Taco Bell. There is also a Carlo's Bakery!
Nearby, there is a Target, a Best Buy, and the famous baby-store Macrobaby (if you are soon to be a parent, this is your stop for sure).
Mall at Millenia
Address: 4200 Conroy Rd
As you must have imagined, the Mall at Millenia is the luxury mall in Orlando. If you are looking for high-end brands, you will probably only find them here.
Some of the most popular stores are:
Christian Louboutin
Jimmy Choo
Chanel
Louis Vuitton
Rolex
Saint Laurent
Prada
Gucci
Burberry
Tiffany & Co.
Hermes
But the Mall at Millenia also has regular stores such as Apple, Sunglass Hut, Abercrombie, Hollister, Victoria's Secret, Anthropologie, Sephora, Aritzia, Pandora, etc. You can check out the complete list of stores here. Close to this mall, you will also find a Best Buy and even an IKEA, a home decor paradise.
There is a California Kitchen Grill, Earls Kitchen + Bar, Johnny Rockets, and P.F. Changs if you feel like eating at the mall. Nearby there is also a Wendy's, Panda Express, TGI Fridays, and Olive Garden.
Best stores in Orlando
Some stores in the US are so big they are not inside any malls or outlets. They are just there, in the middle of the road, with a huge parking lot and people coming and going all the time! Kind of crazy but also impressive.
Some of those stores are incredible and worth going to if you want to shop until you drop. The best ones are:
Best Buy
Addresses: 8350 S Orange Blossom Trl
4155 Millenia Blvd
4601 E Colonial Dr
The most popular electronics chain store in the country. At Best Buy, you will find smartphones, laptops, house appliances, tablets, consoles, TVs, and whatever else you are looking for that may be slightly related to electronics.
Prices are great, but they are not that different from other stores – you go to Best Buy for the convenience of finding everything in one place and for their second-hand items and refurbished program.
The best things to buy second-hand are video games, especially the ones for the newest consoles such as the Playstation 5, since they are expensive if you buy them new.
The refurbished program fixes defective products to sell them for a lower price. The products look new and usually weren't used for very long. I got my current Macbook that way, it was in perfect condition, and 4 years later, it is still going strong!
If you have any electronics on your wishlist, it is worth going to Best Buy. This is also one of the best places to get great deals during Black Friday, so if you are in the states during Thanksgiving, don't skip Best Buy!
Walmart
Addresses: 5734 S Orange Blossom Trl
3250 Vineland Rd
8101 S John Young Pkwy
I know Walmart doesn't need an introduction, but if you have never been to an American Walmart, let me guarantee you: it's an entirely different experience than the one you get in any other country.
You can find anything at Walmart, from make-up to food, electronics, vitamins, clothes, plushes, shoes, sports goods, home appliances, baby stuff… and prices are excellent, especially if you buy from their own brand.
If you are going to the parks, it's a good idea to stop at a Walmart to get water bottles and cheap snacks such as cereal bars. Remember that at Disney, one single Mickey-shaped ice cream will cost you US$5. You can get snacks for the whole family for that price in Walmart.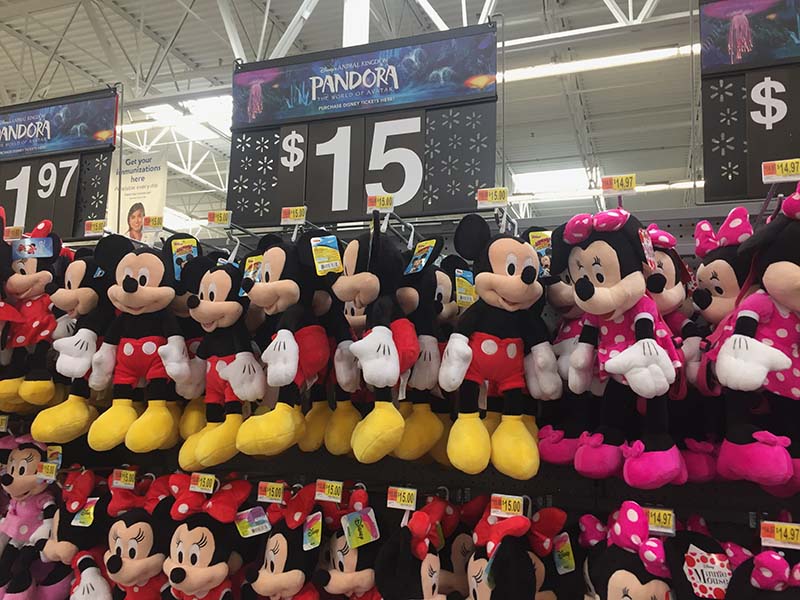 If you buy souvenirs for all your friends and family back home, it's also a smart idea to buy them at Walmart. They are not the official merchandise sold in the parks, but they have cute Disney keychains, shirts, and plushes. And way cheaper, of course!
Target
Addresses: 11619 Daryl Carter Pkwy
4750 Millenia Plaza Way
880 Sand Lake Rd
I don't know exactly how to say it, but let's put it like this: Target is an upscale Walmart. In theory, they are supposed to compete with each other, but I feel Target's products have better quality and are prettier than Walmart's. So if I want to buy cheap kitchen stuff, I go to Walmart. If I want to buy cute stuff to decorate my kitchen, I go to Target.
It's also a great place to find rare items, such as imported chocolates (I'm looking at you, Tim Tams!) or cult make-up brands, such as Pixi and Sonia Kashuk.
In Orlando, they have regular Target and Super Target! I suggest you visit a Super Target. They are bigger, have a great selection, and you can spend a couple of hours shopping the great deals in no rush.
Macrobaby
Address: 1361 Florida Mall Ave
It's no surprise that buying everything baby is also cheaper in the US – so it goes without saying that they have colossal baby supplies stores. Macrobaby is probably the best one in Orlando, and they have everything you might need for the new addition to your family. Prams, cribs, clothes, accessories, hygiene products… They even offer a 4D ultrasound service!
You'll find the best baby-related brands at Macrobaby, City Jogger, Chicco, Carter's, and much more. If you don't have time to do your research and create a wishlist, you can hire their VIP service, where a specialist will help you get everything your baby and family may need.
Yes Brasil
Address: 5480 International Dr
Yes Brasil will probably appeal more to the Latin Americans since they have all brands we like (or the ones that, for some reason, are really expensive in our countries but cheap in the US). They sell a little bit of everything: perfumes, electronics, hair products, make-up, luggage…
The store is close to the Premium Outlet at International Drive, so if you don't find something you wanted at the outlet, you might check Yes Brasil to see if they have it there. There is also a great Brazilian restaurant nearby.
ROSS e TJ MAXX
Addresses: 5295 International Dr (both stores side by side)
4661 Millenia Plaza Way
11625 Regency Village Dr
ROSS and TJ Maxx are outlet stores but to an extreme. They sell different brands at even lower prices than the ones you will find at the Premium Outlets. For example, I've found gym tops from Reebok and Under Armour going for US$5, Skechers for US$15, and Samsonite luggage for US$60!
It's also a great place to find handbags, and I've seen some from brands such as Tommy, Calvin Klein, and even Michael Kors. They also have a luxury section in some stores!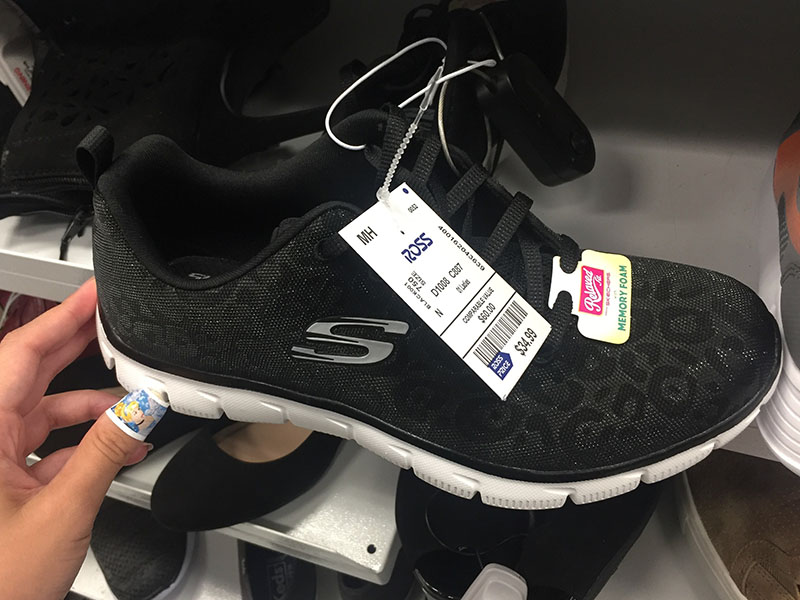 The real problem with this store is that they get really messy after a while, and more than once I had to give up buying some shoes because I couldn't find the other pair! So if you want to visit, plan to go close to opening times, so the store will still be organized.
CVS e Walgreens
Addresses: 9188 International Dr
4750 Millenia Plaza Way
11018 International Dr
As someone who loves make-up, I can tell you there is NOTHING like an American drugstore. They are huge and have many aisles of every hygiene and beauty product you can think of: make-up, hair products, sunscreen, tanners, hair appliances, vitamins, medicine, body creams, face creams… It's paradise. Some even have one whole aisle for paracetamol, ibuprofen, and aspirin, with different kinds of each.
It's an entirely different take from drugstores worldwide, and if you are into beauty, you definitely need to stop at a CVS or Walgreens. You can also stop at a drugstore if you need snacks or something to drink. Yep, they also sell food there.
REI
Address: 430 Orlando Ave, Winter Park
If you are not from the US you probably have a Decathlon nearby, this huge store that sells every type of sports good. The United States doesn't have a Decathlon, so they have a REI.
REI has everything you may need, from camping gear to clothes, shoes, grills, backpacks, bikes, kayaks, hiking stuff… A paradise for those who like the outdoors and adventures.
This is also the place if you are looking for travel accessories! They sell travel backpacks from great brands, such as Deuter, Cotopaxi, and Osprey, and different kinds of utilities, such as outlet adapters, towels that shrink, and even action cameras. I bought my Osprey Fairview backpack there at the Orlando store, and it was a fantastic experience since they had all models in store for me to try on and see what fitted best.
IKEA
Address: 4092 Eastgate Dr
Ok, hear me out here. If you are from Europe, you probably think this suggestion is crazy – why would you shop at IKEA in the US when you have it back home? Well, we Latin Americans do not have IKEAs, so for us, this is definitely one of the best places where to shop in Orlando.
IKEA is the best place to buy things for your home. The store is so big they even have a restaurant in the middle to help you recharge before carrying on with your shopping.
Let's be honest, you won't be able to buy furniture since you won't fit that in your luggage to take it back home. Being so, the first floor of IKEA will probably only be of inspiration for you. However, the second floor, the one below, is where you will have fun since there you can find all types of kitchen, bathroom, bedroom, and office utensils for a great price.
The food is also good and affordable, so don't feel bad if you need to stop to eat something – I'm pretty sure they designed the store to have a restaurant where people get tired and need to grab a snack. Try the meatballs and their chocolate tart!
Disney Springs
Address: 1486 Buena Vista Dr
Disney Springs, formerly known as Downtown Disney, is, as you may imagine, Disney's downtown. There you will find stores, restaurants, a bowling alley, a movie theater, and even nightclubs. It's a great place to visit even if you don't want to shop – the vibes are great, and you can relax for a bit.
Some of the stores at Disney Springs are:
Anthropologie
Coca-Cola Store
Columbia
Disney's Days of Christmas (Disney's Xmas decorations!)
Disney's Pin Traders
kate spade
Lilly Pulitzer
lululemon
Marketplace Co-Op
M&M's
Sephora
Lego Store
Uniqlo
Zara
World of Disney
Click here for the complete list.
If you can't find a specific Disney at the parks, try here at World of Disney. It's the biggest Disney Store in the world!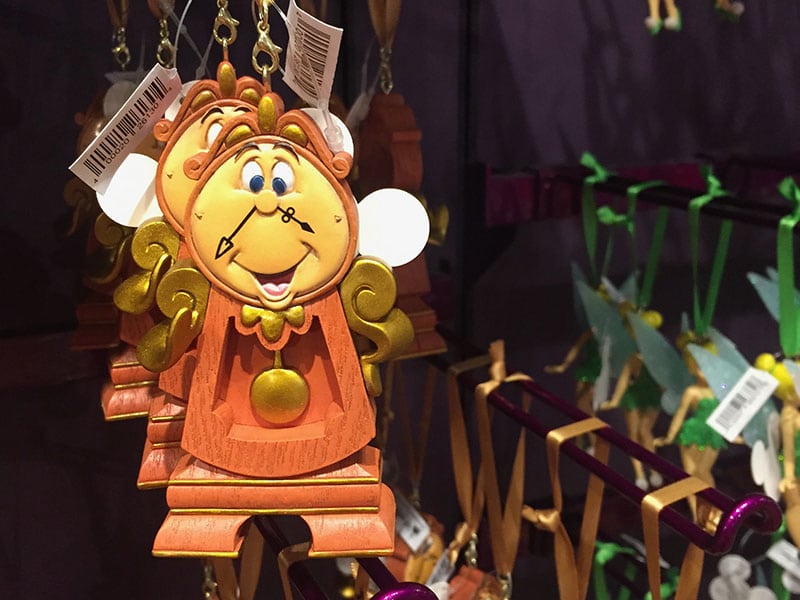 If you want to enjoy a meal during your visit to Disney Springs, you can try Morimoto Asia or some theme restaurant such as the Rainforest Cafe or T-REX.
Yes, Universal also has its own downtown, called CityWalk. It's not the best place to shop, though, since it has few stores, but it's an excellent place to have dinner!
What is worth buying in Orlando?
Well, if you are from an Asian or Latin American country, the answer to this question is easy: almost everything. In general, I would say the list goes like this:
iPhone e Samsung Galaxy
Electronics in general, especially Apple
Beauty items (make-up, hair and face products, perfumes)
Supplements and Vitamins
Clothes from famous brands (The North Face, Guess, Polo Ralph Lauren, Tommy Hilfiger, Abercrombie, Hollister, Levi's, GAP, Calvin Klein, etc.)
Accessories (Coach, Kate Spade, Michael Kors)
Sneakers and workout clothes (especially at the outlets)
Sports goods
Baby stuff
This is a generic list, and it probably won't apply to you if you come from Europe. If you want a complete list of the best brands and products to buy in the US, I suggest you read my post on the matter!
So… Already know where to shop in Orlando? What stores and malls are you visiting? Let me know in the comments!
Which outlets are better in Orlando?
The best outlets in Orlando are the Premium Outlet International Drive and the Premium Outlet at Vineland.
What is the most popular mall in Orlando?
The most popular shopping mall in Orlando is the Florida Mall. There you will find stores such as Apple, Sephora, Victoria's Secret, PINK, Cotton on, Abercrombie, Hollister, H&M, Michael Kors, and more.
Are the Orlando Outlets worth it?
Yes! The outlets in Orlando have some great stores. The one at International Drive has a Victoria's Secret with amazing discounts, besides stores such as kate spade, Kipling, Michael Kors, Tory Burch, and the North Face. The outlet at Vineland has luxury stores such as Burberry, Gucci, and Jimmy Choo.
Which is better Florida mall or Millenia mall?
If you are looking for regular stores, such as Apple and Sephora, the Florida mall is better, since it's bigger. If you want to get some luxury items, go the the Mall at Millenia.