Find out what to do in Florianópolis with this 2-day travel guide written by someone who lived on the magic island for 25 years.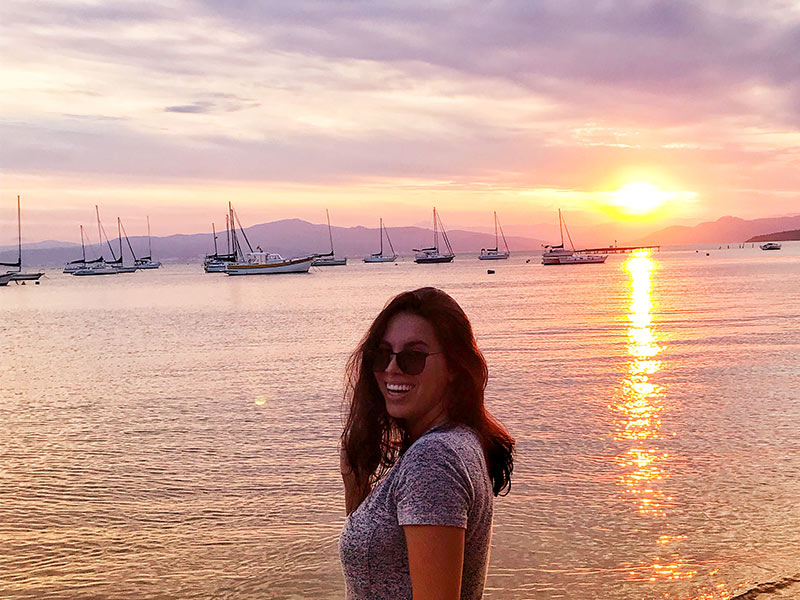 Florianopolis is known as the magic island for a reason.
Santa Catarina's capital has 42 beaches, breathtaking views, hiking spots, great restaurants, a busy nightlife, and it's the perfect place for travelers who want to relax during their trip or those who are ready for some fun. It's also a great destination to go as a couple, with family, friends, and even by yourself.
The island is also not very large, and you can visit the main attractions in just a few days. Being so, Floripa (as the locals call it) is a solid choice if you are planning a weekend getaway or a 3-day trip during the holidays.
Although, if you like the beach, you might want to stay a little longer to soak up the sun without a care in the world.
In this post, you will find a detailed guide of what to do in Florianópolis in 2 days. It includes beaches, restaurants, bars, clubs, and much more. After following my recommendations, I guarantee that you will leave the island knowing that you visited the most incredible, most Instagram-worthy spots.
No worries if your trip is longer than two days. At the end, I also suggested what else you can do and nearby places to explore. Remember that from Florianopolis is just a quick drive to the best amusement park in Latin America.
How to get around in Florianópolis
By far, the best option to get around in Florianópolis is driving.
Public transportation can help you get mostly everywhere, yes, but it will take time. Think Los Angeles but with a smaller infostructure (no subways, no ferries, just buses).
During peak season, the island gets crowded, and traffic can take hours. With that being said, any minute you can save is priceless since you don't want to spend most of your trip in a bus trying to get to one of the far-away beaches.
You can start your day early and avoid traffic by renting your own car and going to different places without thinking much about it.
When I was younger and didn't have a driver's license, my friends and I would have to choose just one beach to spend the day on since it took us hours to get to any beach by bus. That was ok because we lived there, but for a short trip? No way. No one has time for that.
With a car, you can visit three or even more beaches and attractions and just one day. I'm serious – the last couple of times I showed my friends around, we would do this same itinerary that I will show you below by driving, and sometimes we would even have time to add things to our day! That's much better than being stuck in traffic.
Renting a car, you can:
Start your day early and leave any place whenever you want, without worrying about the bus schedule.
Go further and visit places that are not easy to go to using public transportation
Visit more sites.
Since Brazilian's currency is very cheap, renting a car is also not expensive. I suggest renting yours using Rentcars, a fantastic website that gathers offers from the most popular rental companies in the world. They are pretty amazing and have excellent prices.
Can't drive or just doesn't feel like it?
Not a problem. You will simply have to do a condensed version of this itinerary. I will let you know below which sites to visit if you are using public transportation.
Where to stay in Florianópolis
If you want to stay at the beach all day, you should stay at a beach hotel such as the Il Campanario in Jurere. If you're going to explore the island, however, I suggest you stay downtown or at Lagoa da Conceição. You can easily access the rest of the island from both these places.
Some of the best hotels are: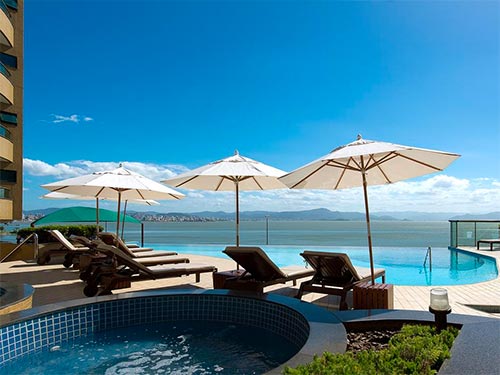 The most famous hotel in Florianopolis. The Majestic Palace has free wifi for all guests, parking, a spa, a restaurant, and an outdoor pool with breathtaking views of the ocean. It's in the heart of downtown, and you can get to Beiramar Shopping Mall by just crossing the street. If you are staying downtown, stay here!
At Lagoa da Conceição, Quinta das Videiras is the best option if you want to stay close to the beach but still enjoy some luxury. It has a pool, jacuzzi, spa, and its own Brazilian restaurant. Feeling fancy? Get one of the rooms with a private pool!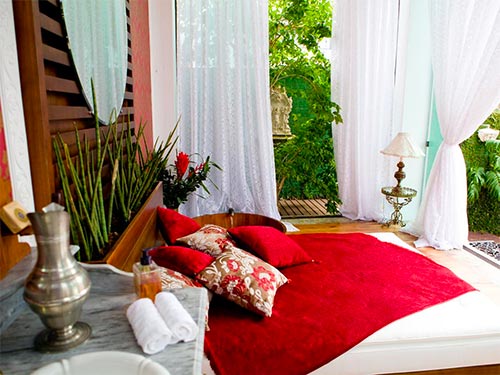 If you'd rather stay in hostels, Lagoa da Conceição is also the way to go since it is where you will find most of the hostels on the island. Try the Lagoa Nomade Hostel.
WHAT TO DO IN FLORIANOPOLIS IN 2 DAYS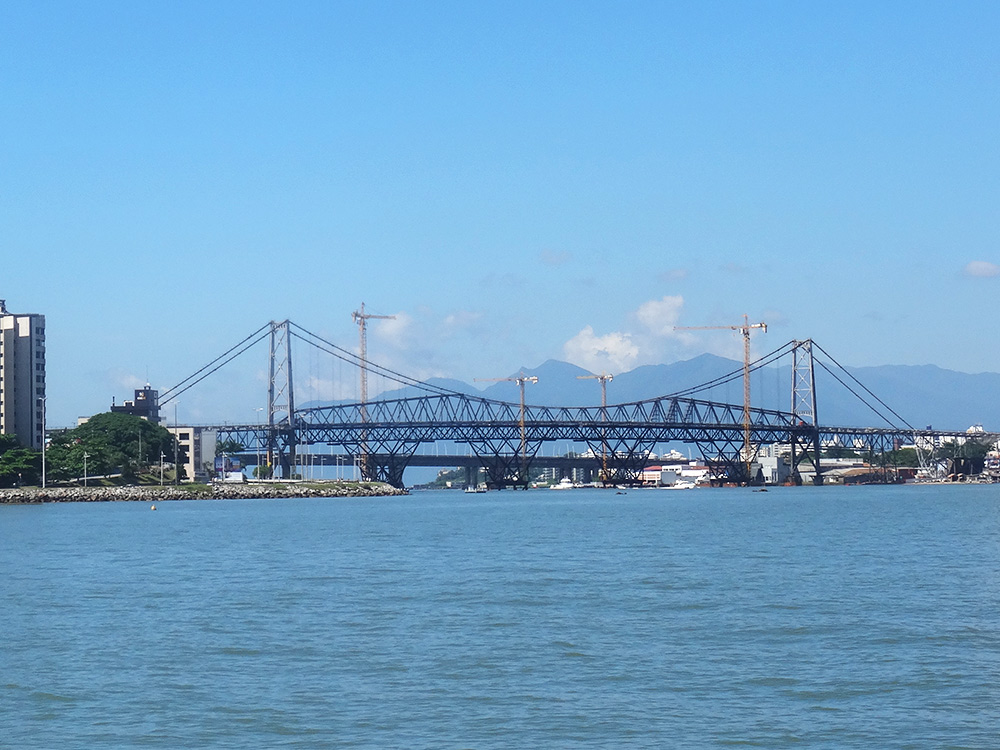 Day 1 – Northern Beaches and Santa Monica
To start your day, take the SC-401 to the north of the island. There you will find the most popular beaches among the tourists, such as Jurerê and Canasvieiras.
While getting there, make a quick stop at Padeiro de Sevilha at Casa and Design strip mall. The locals love this place for a reason: excellent options for breakfast (think mini pão de queijos, cakes, bread) and excellent prices. 
After that, go straight to Jurerê and drive around the international part where you will find incredible mansions – which will all be empty if you are going off-season. It's a pretty hunting sight, to be honest. 
By the way, if you are traveling in the off-season, or if you are super early, I recommend you drive straight to the end of Jurerê and drive the path to Praia do Forte (the entrance of the road is near P12 beach club). It's quite a relaxing place since it doesn't get crowded and the ocean is pretty calm.
The path towards Praia do Forte is steep and practically a one-way road, so it gets massive traffic for such a small road during the summer. Therefore, if you are visiting during peak season, I suggest you park your can near P12 and walk there, or skip it entirely and go straight to Jurerê Beach. This beach is by far the most popular on the island, and it will get crowded as the day goes by. The closest to P12, the emptier it gets. 
When it's time to get lunch, go to Open Shopping and stop at Café Cultura. They have excellent bruschettas, eggs, salads, salmon, coffee, and vegetarian and vegan options. If you are in the mood for a buffet meal, you can try Estação 261 at the gas station (it's weird, but I swear the food is terrific, do try the desserts!) or Ponto at Jurerê Sports Club.
If you are using public transportation, my suggestion is that you enjoy Jurere until mid-afternoon. If you are driving, though, head to Canasvieiras through Canasjurê, drive around the neighborhood and then drive to Praia Brava. It's a fantastic spot with a younger crowd, and it even has a small hiking trail from where you can see the whole coast.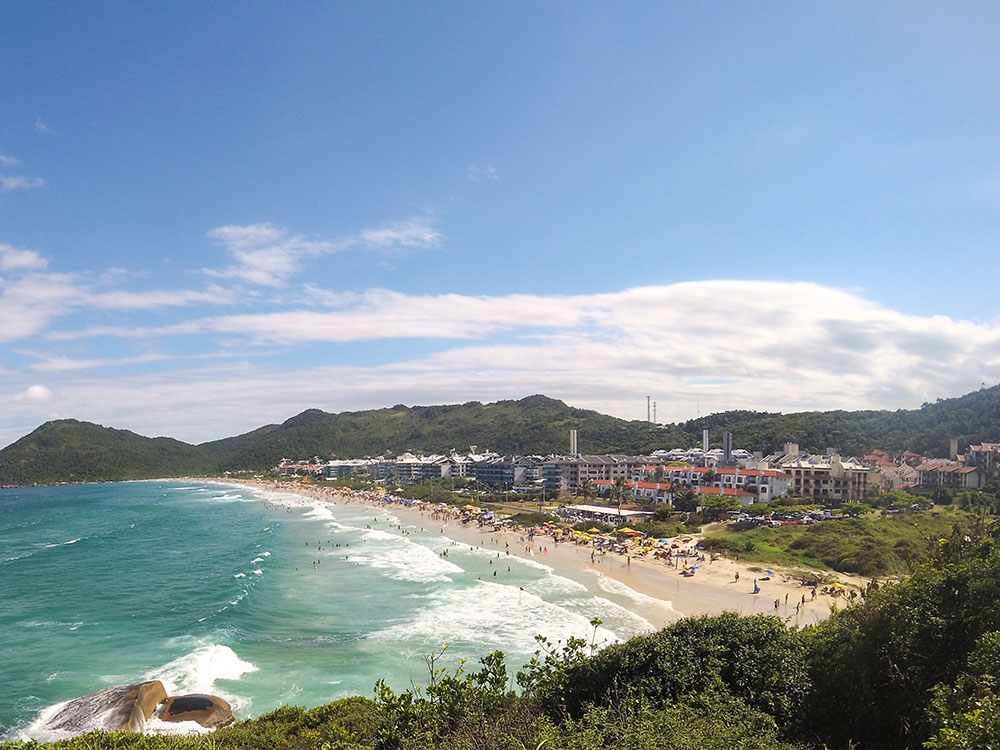 Before the sunset, drive through SC-401 towards downtown and stop at Santo Antônio de Lisboa. This neighborhood is known as one of the most Portuguese places outside of Portugal, and you will find bakeries selling traditional goods, crafts, and great restaurants. I suggest you only grab a quick snack if hungry and find a spot on the sand to watch the sunset since this is one of the best places on the island to do so. When we talk about what to do in Florianópolis, this is a place you can't miss!
At night, stop at your hotel for a shower and go out to dinner. My recommendation is to go to Santa Monica, one of the best areas to eat around the city. My favorite one is the Soul Brothers Hamburgueria, where you will find gourmet burgers served at the gas station. It's unconventional, I know, but guaranteed one of the best burgers I've ever tried. If you are in the mood for drinks after that, behind the gas station, you can find Meu Escritório (translation: My Office), which is a university bar with cheap beers and caipirinhas. If you would like something fancier, Rabodigalo is the way to go.
Day 1 Summary
Breakfast at Padeiro de Sevilha
Forte Beach
Jurere Beach
Lunch at Jurerê
Drive through Canasvieiras
Brava Beach
Sunset at Santo Antonio de Lisboa
Dinner at Santa Monica
In bold is the itinerary using public transportation.
Day 2 – Southern Beaches, Lagoa da Conceição and Coqueiros
Now that you already know the island's north, it's time to explore the south, where you will find the most beautiful beaches, and then head to Lagoa da Conceição.
Start your day by driving through SC-405 southbound. This road was horribly planned and even has a reversible lane, which is always set in the most inconvenient direction. It's almost impossible to beat the traffic to the south beaches after 9 am, so start your day early!
Drive to Campeche and stop at Mercado Sehat for breakfast, where they have delicious options and even some Thai dishes for lunch. After eating, go to Praia do Campeche and spend the morning there enjoying the ocean and the sun. If you can, get a boat to Ilha do Campeche, the tiny island you can see from the beach. The water there is tourquise blue (think Caribbean), and it's a fantastic location for photos. 
At lunchtime, head to Lagoa da Conceição through SC-406. The lagoon is vast, with many beaches, restaurants, and stores around it. Before getting there, though, I recommend you to stop at Boka's, a traditional restaurant with many franchises around the city. Then, order a portion of a milanesa shrimp (fried shrimp on dough) and thank me later. 1/4 of the portion is more than enough for two people, and you will probably have leftovers.
In the afternoon, enjoy any of the beaches around the lagoon – Praia Mole, Joaquina, or Galheta, the latter being a nudism beach. My favorite one is Joaquina, where you can also find the dunes, take great pictures climbing the rocks around the area, and it also helps that the tide is not that strong. Praia Mole is more of a surf beach, so the waves are big.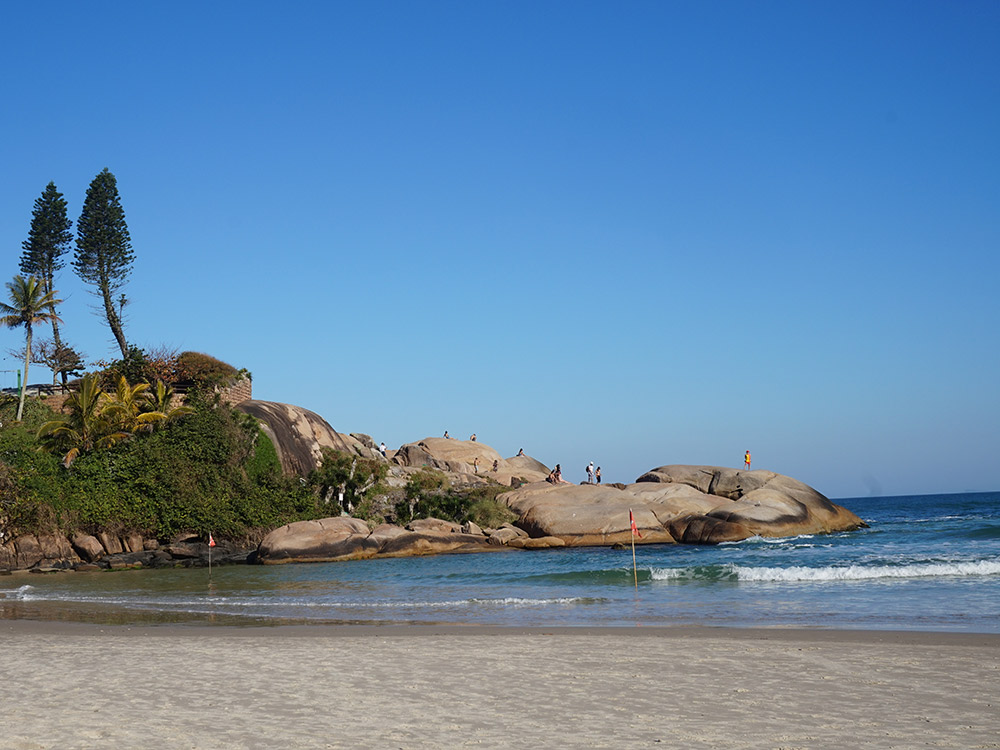 At the end of the afternoon, drive to Mirante da Praia Mole to have an unforgettable view of the island and then visit the neighborhood at Lagoa. You will find great bars and restaurants, and if you are staying close by, you can take a quick shower and dine right there. I recommend Sabor Perú, a great Peruvian restaurant.
If you are staying downtown, though, I suggest you go back, clean yourself and have dinner at Via Gastronômica de Coqueiros, on the other side of the bridge.
Yes, many people don't know that, but that's also part of Florianópolis, not a different city! One of my favorite restaurants there is Maria Coxinha, a coxinha bar with different flavors of the Brazilian finger good. To finish your night, get some drinks at Boteco Zé Mané. 
Day 2 summary
Breakfast at Mercado Sehat
Campeche Beach
Lunch at Boka's Lagoa da Conceição
Joaquina Beach
Lagoa da Conceição neighborhood
Dinner at Lagoa or Coqueiros
In bold is the itinerary using public transportation.
Half a day on the island?
There is still much more to do in Florianopolis. If you get there in the middle of the day, I suggest having a bite or even dinner at the Mercado Público (the public market). You will find finger food, cold beer, and also fantastic seafood meals. The island's traditional dish is Tainha (fish).
You can also finish your night at the bars around Victor Meirelles street, such as No Class or Madalena Bar.
If you have a free morning, you can go to Beira-mar Norte, where the locals usually do some walking or ride bikes. It's easy to rent your own to explore around if you feel like it.
After that, you can also visit Praça XV, the most famous plaza in the city. There you will find the Figueira, a century-old tree from 1891. From there, you can head to the public market and have lunch, stands 06 and 32 are some of the best ones.
What to do in Florianópolis if you have more time
If you still have a couple more days on your trip, I suggest you visit some of the other beaches on the island, or even the ones on the other side of the bridge, such as Guarda do Embaú and Bombinhas.
If you enjoy hiking, you will like Lagoinha do Leste (the most famous one with a fantastic view) or Gravatá, the latter being the easiest one.
You can also visit some of the neighboring cities, such as Balneário Camboriú. If you are into amusement parks, you will have a field day visiting Beto Carrero World, the biggest amusement park in South America.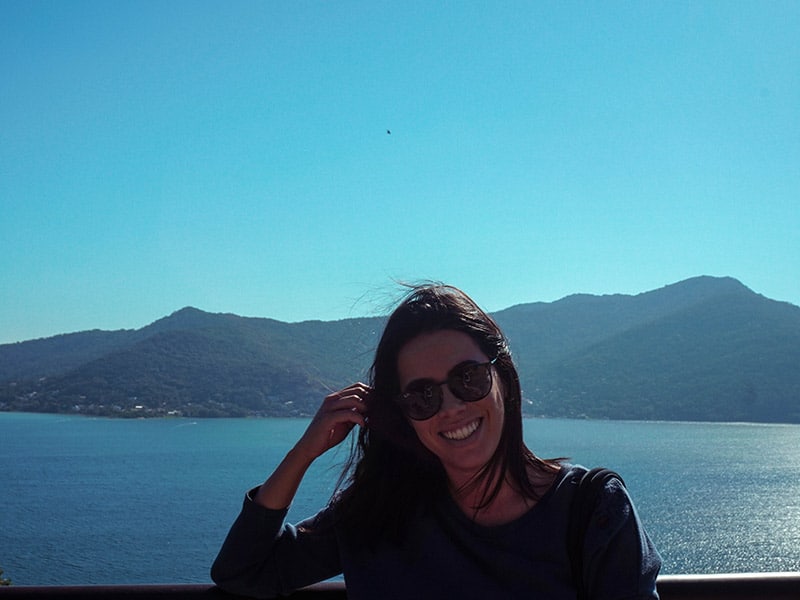 And there you go – a complete itinerary of what to do in Florianópolis in 2 or more days!
If you have any questions, let me know in the comments! I was born and raised at the magic island and will gladly help you get the most out of your trip!