Is Olaplex worth it? Or is it just another hyped-up hair product? Find on in this post with a full review with before and after pictures!
I've been hearing great things about Olaplex for quite a while now.
Almost every review says that the products are excellent, life-changing, etc.
And although I did want to try them, it had never seemed worth it.
First of all, the whole line is quite expensive. The prices are not crazy, but my income as a travel blogger took a significant hit in the last couple of years (guess why), so I couldn't justify anything other than drugstore products.
Second, I already like my hair. In fact, I think it's great!
At least, that was what I thought until a couple of months ago when I got my annual balayage highlights.
After getting highlights, I usually use the Moroccanoil hair masks for a couple of weeks to help nourish and strengthen my hair. But I had finished the masks a month before the highlights, and they were so expensive I couldn't get myself into repurchasing them.
So I was just using regular shampoo and conditioner. No big deal, Elvive and Tresemme stuff. And, as you can imagine, my hair didn't like that.
In fact, it didn't like that at all.
I already feel annoyed that it's too long, but now it is too long and damaged, and it's looking worse after every wash. I was SO close to going to the hairdresser and asking for a long bob.
But then I found some Olaplex on sale.
So I got it as a last resort before chopping my hair.
And let me say, the results were so noticeable after the first application I had to write a review.
So buckle up for my Olaplex review with before and after photos.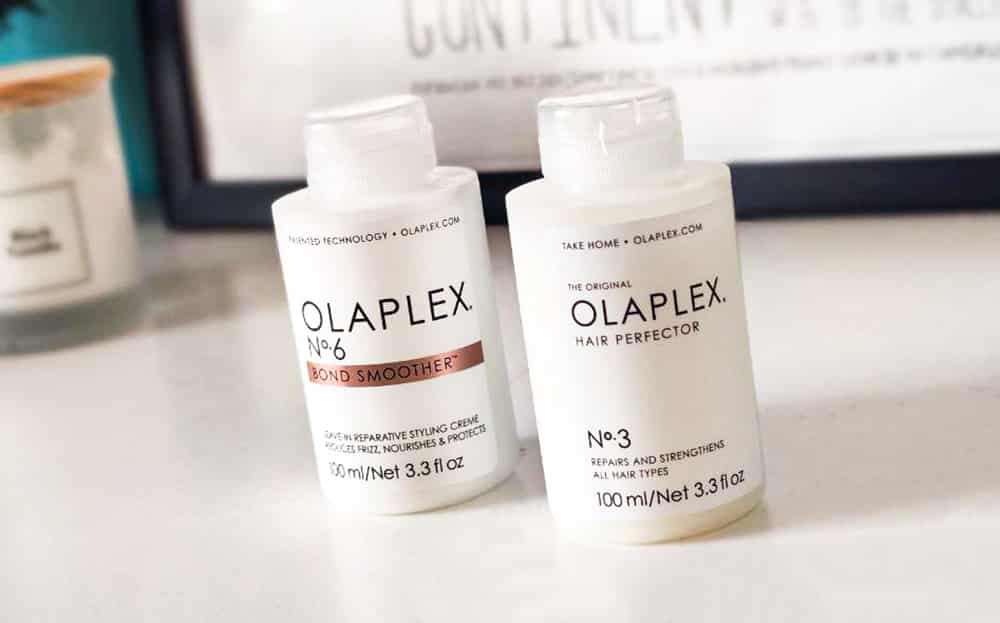 A quick reminder that I'm not a beauty or hair influencer. On the contrary:
The only thing I use on my hair regularly are: shampoo (Tresemme), conditioner (Elvive), and leave–in (Garnier).
I don't get expensive hair treatments. I don't even have a single hair mask at home right now!
The last time I got a haircut was seven months ago.
I have wavy, almost curly hair with balayage highlights.
So I'm just an ordinary girl who decided to try some popular products to save her hair. If that is also your case, keep reading to find out if Olaplex is worth it for you!
(But if you are looking for more hair product recommendations, I do have a post with tips on what to buy if you are from outside the US and want to know what is worth buying for your hair in America).
But fiRst… What is Olaplex?
If you are a hair aficionado, you might be familiar with the Brazilian "hair chronogram" concept. You take turns between moisturizing, nourishing, and strengthening your hair according to its needs.
After a while, you figure out the best "chronogram" for you, and that's how I know my hair is happier with constantly nourishing and with some protein from time to time.
What intrigued me the most about Olaplex is that it didn't claim to be any of these things. It was not a nourishing treatment, not a protein treatment… it is a bond treatment.
And what does that mean?
According to Olaplex, our hair is made of disulfide bonds. When the hair is damaged, that means these bonds have broken. To repair this damage, Olaplex created a patented formula using Bis-Aminopropyl Diglycol Dimaleate.
Now, I'm no chemist, so that doesn't say much. What I'm interested in is the fact that Olaplex claims to repair any sort of damage, be it from heat tools, color treatments, chemical treatments, pollution, etc. I dry my hair using a blowdryer at least once a week, and as I told you already, I have balayage highlights. So repairing any type of damage sounds like something I really need.
The website also says Olaplex works for every hair type. Honestly, I had some concerns about that since every curly (and wavy!) girl can tell you that what works for fine, thin hair will not work on curly hair. So, although it is nice that it works for everyone, that made me a little skeptical.
But I decided to give it a shot anyway.
Olaplex Product Line for Damaged Hair
As I'm writing this post, Olaplex has ten different products in its hair care line. They are all identified by numbers:
Nº0 – Intensive Bond Building Treatment
Nº1 – Bond Multiplier*
Nº2 – Bond Perfector*
Nº3 – Hair Perfector
Nº4 – Hair Maintenance Shampoo

Nº4P – Blond Enhancer Toner Shampoo
Nº4C – Hair Maintenance Clarifying Shampoo

Nº5 – Bond Maintenance Conditioner
Nº6 – Bond Smoother
Nº7 – Bonding Oil
Nº8 – Bond Intense Moisture Mask
Nº9 – Bond Protector Nourishing Hair Serum
Nº1 and Nº2 are unavailable for regular consumers and sold to professionals only.
Nº3 is the most popular product of the line, and it is the product that put Olaplex on everyone's radar. One bottle is sold every 3.5 seconds.
Every single product is meant to treat damaged hair. If you are unsure what your hair needs, you can take a quiz on their website to figure it out.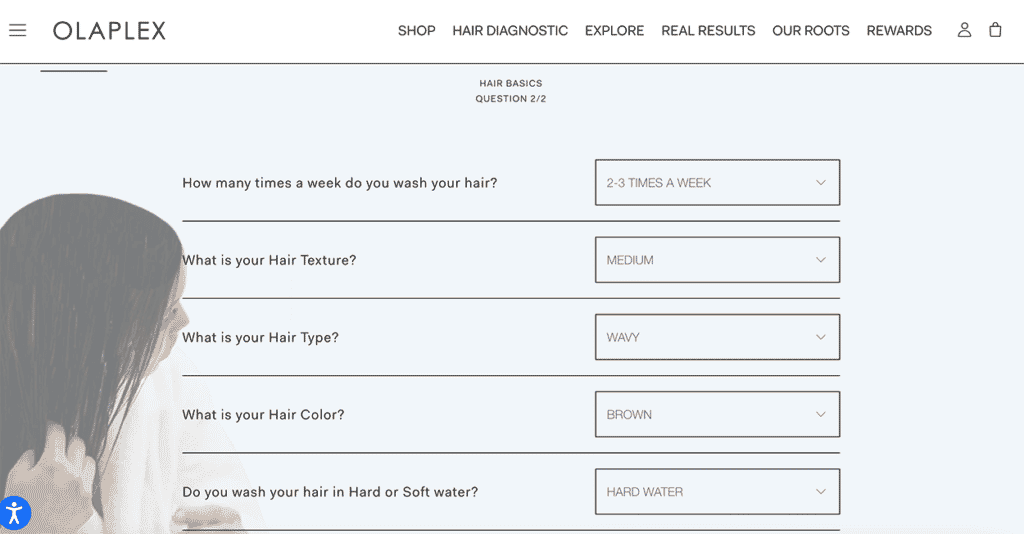 I confess I didn't even take the quiz, I just knew I wanted Nº3 since it was the most popular, and I decided to take another one since they were on sale and almost half the regular price. I decided to go with Nº6, which you should use in the place of a leave-in.
This review is for Olaplex Nº3 and Nº6, but as I'm writing, I'm considering buying Nº0, Nº9 and Nª7 (maybe also Nº8).
And let's be honest, I'm not considering buying the shampoo and conditioner because I just got Monday Haircare, and I cannot justify buying that many hair products. Otherwise, they would probably also be on my list.
How to use Olaplex Nº3
Nº3 is the ultimate hair care home treatment, made to repair damaged bonds and, as the name may say, perfect your hair.
Olaplex recommends using Nº3 after Nº0, as if they were a two-part system, but I only got Nº3. I reasoned that Nº0 only came out years after Nº3, and before that Nº3 by itself was all the hype, so it alone was probably good enough for a first try.
According to the instructions, you should apply Olaplex Nº3 on still wet, towel-dry hair and leave it on for at least 10 minutes. If you want, you can leave it for longer for better results. After that, wash your hair with shampoo and conditioner, the usual routine.
I was ready to use it like instructed, but as it happens, Google showed me a link for an article saying that shampooing your hair before applying Nº3 was a better way to use it. Doing that would remove any pollution and residue from your hair before applying the treatment.
Well, that made sense, so that's what I did. After shampooing my hair and rinsing it off, I applied Olaplex to towel-dry hair and left it on for around one and a half hours.
After that, I returned to the shower for my regular hair routine using drugstore products.
How to use Olaplex Nº6
Well, Nº6 is a leave-in, so you apply it to your hair while it is still damp.
According to the website, it speeds up blow-dry time, helps smooth air dry curls, and even reduces frizz.
I did notice that it helped with frizz, and the most surprising thing is how light it is. It felt like I had put nothing on my hair, which is always a pleasant surprise. After blow-drying my hair, it felt like I had just left my hairdresser because it was so smooth and bouncy!
The day I got my products in the mail, I also washed my hair but didn't have time to try Nº3. I still applied Nº6 and let my hair air dry while running some errands, and I have to say I hated it. Yes, it is light, but my hair got all fluffy, no weight at all, so it looked like a mess.
I think the results would be better if my hair had more protein, or at least if I had used Nº3 first, Nº6, and then let my hair dry naturally. I will do the test sometime soon and update this post.
Before and After Olaplex
I want to start this section by saying I'm not a beauty blogger. Being so, I don't have practice with taking pictures for reviews, and these pics were mostly for my friend who was discussing with me a couple of weeks before if Olaplex was worth it.
I took this first picture before washing my hair. As you can see, the ends are extremely dry, and my hair was dull, with no shine at all.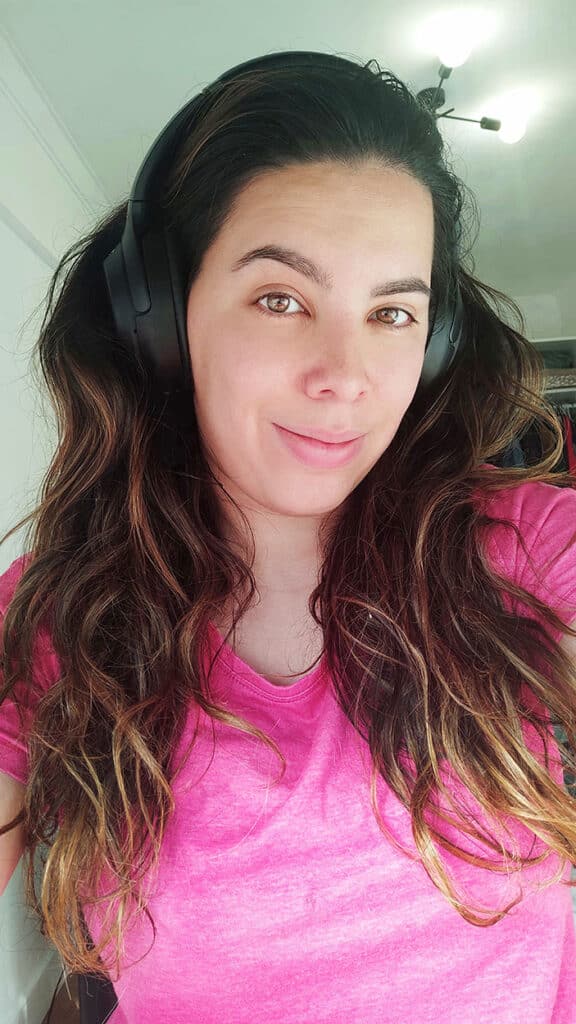 The second picture is the day after I tried Olaplex Nº3 and Nº6. I didn't think I would be able to see a difference after only one use, but I can't deny it. Hair feels smooth, not dry at the ends, even the color looks different, and it even has a slight shine!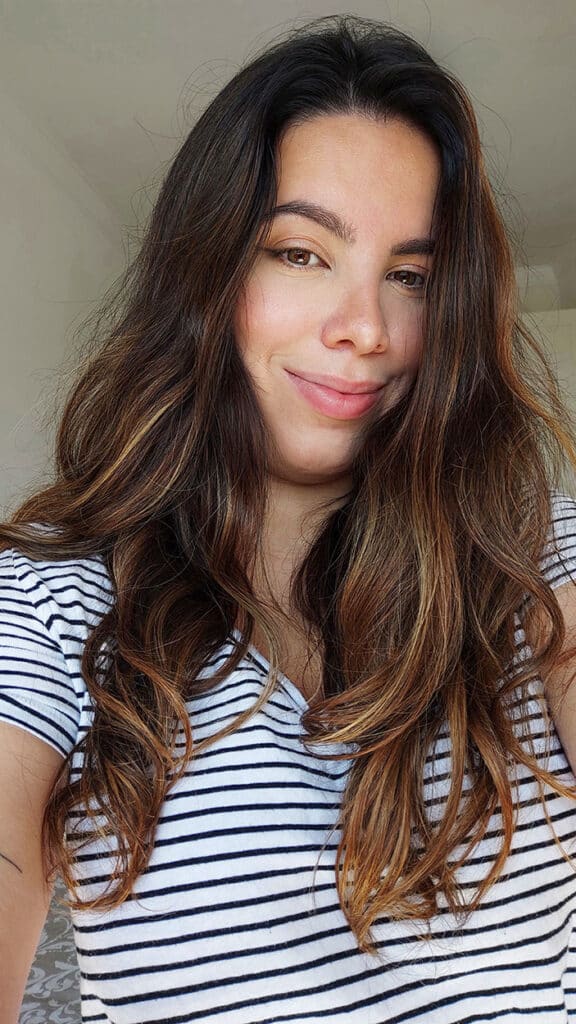 The first picture was taken three days after washing my hair for the last time, so even though it shows a big difference, I don't think it is a fair way to do a before and after.
Luckily I always record the videos for my YouTube channel the day after washing my hair, so we can compare the videos from before Olaplex and after Olaplex.
I thought the selfies showed a significant difference, but the way my hair looks in the second video? Look at that shine! The healthy ends! I'm speechless.
It was comparing them both that made me want the other products in the line. If two out of ten can make that happen, imagine if I add the others?
Is Olaplex Worth It?
Even though I got the products at half the price, my experience was that Olaplex is worth it, even if you don't get them on sale. The difference one application can make on the hair is visible: it gets healthier, shiner, and bouncier.
I was ready to give up on my long hair and get a long bob, and now I don't even consider that anymore. I will keep using Olaplex and probably add more products from their line to my haircare routine.
If you want to try it but don't want to invest too much, I suggest starting with Nº3. It's the best seller for a reason, and from there, you can decide if it is worth purchasing some of Olaplex's other products.